Good Morning Status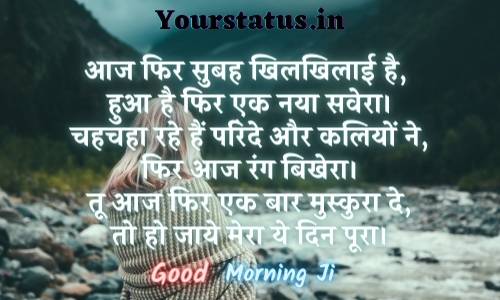 Jinhen khvaab dekhana ♥ achchha lagata hai,
Unhen raat chhotee ♥ lagatee hai,
Aur jinhen khvaab pure ♥ karana achchha lagata hai,
Unhen din chhota ♥ lagata hai…
Good morning…!!
Ek dard ♥ hai jon dil se jaata nahin,
Yahee vajah hee kee ♥ hame teri yaad aati hai',
Lo subah aa gai too ♥ raatabhar rulaati rahi,
Bekhudi mein hi ye ♥ raat bhi kat jaati hai…
Good morning…!!
Bikharane ke to laakh ♥ bahaane mil jaayenge,
Aao ham judane ke ♥ avasar dhoondhe!
Good morning…!!
Yah jaruri nahin ♥ ki har shakhs,
Ham se milakar ♥ khush ho,
Magar hamaara ♥ prayaas yah rahe ki,
Hamase milakar ♥ koi dukhi na ho,
Good morning and ♥ keep smiling…!!
Ghadee kee tik ♥ tik ko,
Maamuli na ♥ samajhe,
Bas yoon samajh ♥ leejiye jindagee,
Kee ped par ♥ kulahaadee ke vaar hai…
Good Morning and ♥ Keep Smiling…!!
Sabase tej vaahee ♥ chalata hai,
Jo akele ♥ chalata hai,
Lekin! door tak ♥ vahee jaata hai jo,
Sabako saath ♥ lekar chalata hai,
good morning and keep ♥ smiling…!!