Good Morning Messages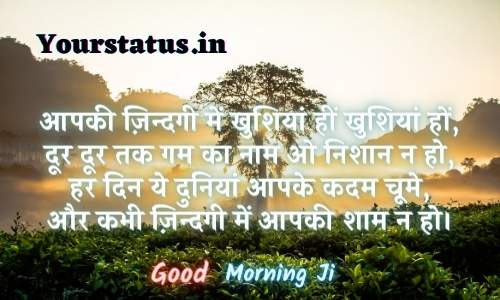 Ye Zindagi tab ♥ haseen hoti hai,
Jab har dua kabool ♥ hoti hai,
Kahane ko to sab ♥ apane hai,
Par kaash koi aisa ♥ ho jo ye kahe,
Tere Dard Se Mujhe Bhi ♥ "takaleeph" hoti hai….!
Good morning and keep ♥ smiling…!!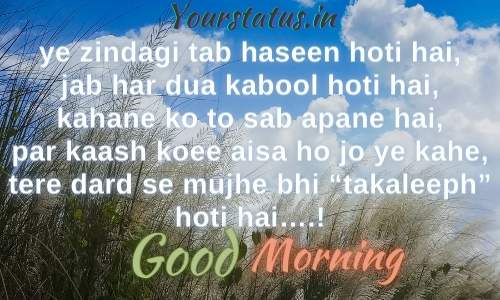 jindagee mein jo ham ♥ chaahate hai,
vo aasaanee se nahin ♥ milata,
lekin jindagee ka ek sach ♥ ye bhee hai,
kee jo ham ♥ chaahate vo aasaan nahin hota,
good morning ♥ and keep smiling…!!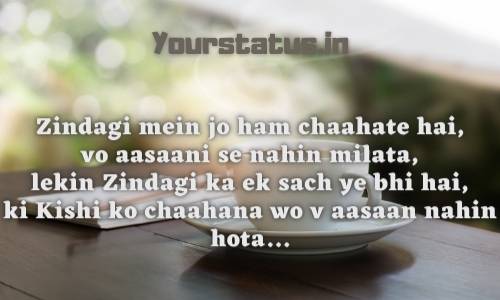 "bas itanee ♥ see baat,
samandar ♥ ko khal gayee,
ek kaagaj ♥ kee naav,
mujhape ♥ kaise chal gaee",
shubhaprabhaat
aapaka din ♥ mangalamay ho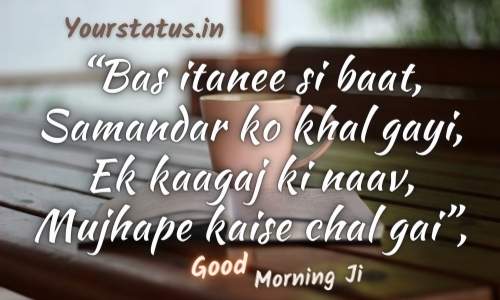 Us inshaan se kabhee ♥ jhooth na bole,
Jise aap ke jhooth par ♥ bhee bharosa ho…
Shubhaprabhaat
Aapaka din ♥ mangalamay ho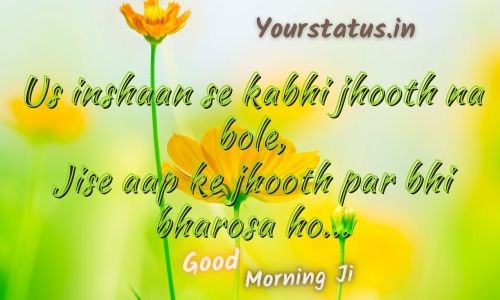 Khud mein ♥ kaabiliyat ho to ♥ bharosa keejiye,
Sahaare kitane bhee ♥ achchhe ho saath chhod ♥ jaate hai!
shubhaprabhaat
aapaka din ♥ mangalamay ho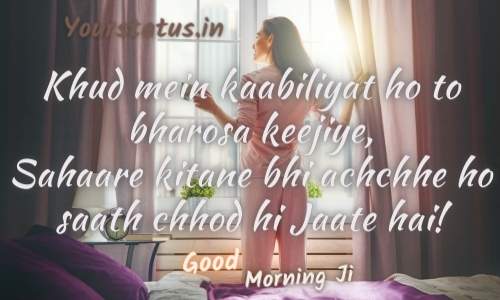 Aap jis par aankh ♥ band karake bharosa karate hai,
Aksar vahee aap kee ♥ aankhe khol jaata hai….!
Shubhaprabhaat
Aapaka ♥ din mangalamay ho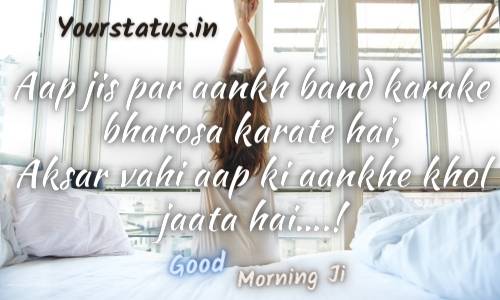 Jab koee ♥ haath aur saath,
Donon hee chhod ♥ deta hai,
Tab kudarat ♥ koee na koee,
Ungalee pakadane ♥ vaala bhej detee hai,
Isee ka naam ♥ jindagee hai…
Shubhaprabhaat
Aapaka din mangalamay ho
Khwahishon se ♥ nahi girte hai,
Phul ♥ jholee mein,
Karm kee shaakha ♥ ko hilaana hoga…
Shubhaprabhaat
Aapaka din ♥ mangalamay ho