Hindi Diwas 2020 status, messages, Images for Whatsapp & Facebook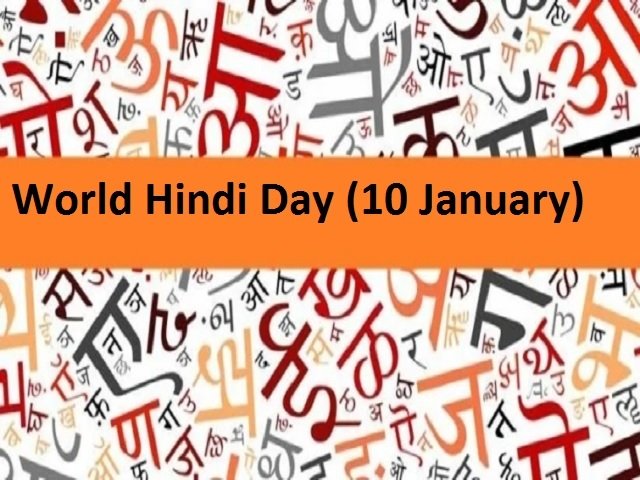 Hindi Diwas status for Whatsapp
Hindi is among the five most spoken languages ​​in the world. The Mandarin language of China is the most spoken in the world followed by the Spanish language number. English is the third spoken language worldwide. After this comes the Hindi number. Since 1975, the World Hindi Conference has been celebrated in several countries including India, Mauritius, Trinidad and Tobago, USA, UK. At the same time, the main purpose of World Hindi Day is to recognize it globally.
International Hindi Day is celebrated every year on January 10. The main aim behind celebrating this day is to promote the Hindi language all across the world. The word Hindi arose from the Persian word Hind, meaning the land of Indus river. The language is spoken by approximately 43 crore people in the world.
Celebrate the World Hindi Day 2020 by wishing each other with Inspirational Messages, Quotes & Images.
Important things related to World Hindi Day:
You can share these as messages so that others may also know about this occasion.
दुनिया भर में हिन्‍दी (Hindi) के प्रचार-प्रसार के लिए पहला विश्‍व हिन्‍दी सम्‍मेलन 10 जनवरी 1975 को नागपुर में आयोजित किया गया था. इसलिए इस दिन को विश्‍व हिन्‍दी दिवस के रूप में मनाया जाता है. इस सम्मेलन में 30 देशों के 122 प्रतिनिधि शामिल हुए थे. 2006 के बाद से हर साल 10 जनवरी को विश्वभर में विश्व हिन्‍दी दिवस मनाया जाता है.
पूर्व प्रधानमंत्री डॉक्‍टर मनमोहन सिंह ने 10 जनवरी 2006 को हर साल विश्व हिन्‍दी दिवस के रूप मनाए जाने की घोषणा की थी.
विदेशों में भारतीय दूतावास विश्व हिन्‍दी दिवस (World Hindi Day) के मौके पर विशेष आयोजन करते हैं. सभी सरकारी कार्यालयों में विभिन्न विषयों पर हिन्‍दी में कार्यक्रम आयोजित किए जाते हैं.

नॉर्वे में पहला विश्व हिन्‍दी दिवस भारतीय दूतावास ने मनाया था. इसके बाद दूसरा और तीसरा विश्व हिन्‍दी दिवस भारतीय नॉर्वे सूचना एवं सांस्कृतिक फोरम के तत्वाधान में लेखक सुरेशचन्द्र शुक्ल की अध्यक्षता में बहुत धूमधाम से मनाया गया था.
विश्व हिन्‍दी दिवस के अलावा हर साल 14 सितंबर को 'हिन्‍दी दिवस' मनाया जाता है. 14 सितंबर 1949 को संविधान सभा ने हिन्‍दी को राजभाषा का दर्जा दिया था तभी से 14 सितंबर को हिन्‍दी दिवस मनाया जाता है.
अभी विश्‍व के सैंकड़ों व‍िश्‍वविद्यालयों में हिन्‍दी पढ़ाई जाती है और पूरी दुनिया में करोड़ों लोग हिन्‍दी बोलते हैं. यही नहीं हिन्‍दी दुनिया भर में सबसे ज्‍यादा बोली जाने वाली पांच भाषाओं में से एक है
दक्षिण प्रशान्त महासागर के मेलानेशिया में फिजी नाम का एक द्वीप है. फिजी में हिन्‍दी को आधाकारिक भाषा का दर्जा दिया गया है. इसे फि‍जियन हिंदी या फि‍जियन हिन्दुस्तानी भी कहते हैं. यह अवधी, भोजपुरी और अन्य बोलियों का मिलाजुला रूप है.
पाकिस्‍तान, नेपाल, बांग्‍लादेश, अमेरिका, ब्रिटेन, जर्मनी, न्‍यूजीलैंड, संयुक्‍त अरब अमीरात, युगांडा, गुयाना, सूरीनाम, त्रिनिदाद, मॉरिशस और साउथ अफ्रीका समेत कई देशों में हिन्‍दी बोली जाती है.
साल 2017 में ऑक्‍सफोर्ड डिक्‍शनरी में पहली बार 'अच्छा', 'बड़ा दिन', 'बच्चा' और 'सूर्य नमस्कार' जैसे हिंदी शब्‍दों को शामिल किया गया.
विश्व आर्थिक मंच की गणना के अनुसार हिंदी विश्व की दस शक्तिशाली भाषाओं में से एक है.
WORLD HINDI DAY 2020 Inspirational Quotes:
If you are seeking Hindi Diwas status for Whatsapp; then this section is certainly for you. Here we have collected some of the best quotes that you would certainly like to share:
"Hindi is the language of Hindus."  -Ra Diwakar
"A nation is dumb without national language." -Mahatma Gandhi

"Hindi is the simplest source of our nation's expression." -Samitranandan Pant
"If one script is required for all Indian languages, then it can be Devanagari only." -Justice Krishnaswamy Iyer
"A country that does not have the pride of its language and literature cannot be advanced." -Dr Rajendra Prasad


"Hindi is the soul of Indian culture." -Kamalapati Tripathi
""Our Nagari is the most scientific script in the world."  – Rahul Sankrityayan.
"No one can stop the promotion and development of Hindi" -Pandit Govind Ballabh Pant
"Use of Hindi in national practice is necessary for the progress of the country" -Mahatma Gandhi


"Hindi is not the language of anyone state but is the most spoken language in the country" -William Carey
Apart from World Hindi Day, 'Hindi Day' is commemorated on September 14th every year. National Hindi Day marks the day in 1949 when the constituent assembly adopted Hindi as the official language of the Union.
World Hindi day short video for Whatsapp status
 Also Read: 
We hope that you would certainly like our beautiful collection. For different other trending and latest statuses for Whatsapp, you can visit our website at
YourStatus
. Don't forget to share our page on social media platforms if you like it.
Dosti Status | Friendship Status for WhatsApp in 2020
Are you Looking For Friendship Status or Dosti status? Then you are on the right status website because we have listed the latest Dosti Status that you can put on your status and tag your friend!. Just read, enjoy, and share with your friends and on your social media.
As it is well known that posting Whatsapp status is a trending way to express your emotions these days. Friendship status or Dosti status is a great way to show your love for your friends on social media. 
From great quotes about the memories you make in school and college to quotes depicting the true meaning of friendship, you can find a wide variety of latest Dosti Status on our website to post on your social media platforms like Facebook, Whatsapp, or Instagram. Here are some great Dosti status to share with your squad of friends:
Yes, we agree that School is annoying and irritating,

but admit it, you will miss it once you leave it!

A true friend is one who, even looking at your biggest smile,

can read the sadness behind it, without you telling him.
Remember, a true friend will always show you your strengths,

despite knowing all your weaknesses.

Choose your friends with caution;

plan your future with purpose,

and frame your life with faith.

Never forget old friends in the race of making a new one.

Because, new ones are silver, but the old ones are gold.
A best friend depicts a four-leaf clover,

that is surely hard to find and lucky to have.

When you fall, they laugh initially, but then pick you up.

Who are they? Friends.

When you tell your problem to your friend, he will listen to it, understand, and give you the correct guidance.

But, when you don't tell your problem to your best friend, he will scold you and then hold you tight, even if you say, leave me alone.
Even after knowing about your life and past incidents, if the person still loves you,

believe me, you've got the best friend.

Call it a Clan,

Call it a Network,

Call it a Tribe,

Call it a Family Whatever you Call it,

Whoever you are You need One.

If they don't make fun of you,

they are surely not your real friends.

It takes a long time

to grow an old friend.
I Hope, these lines relate to you and your friends. So, go forward, chose the lines that you find the most catchy and attractive, and relatable of course, and just put it on your Whatsapp status, Instagram stories, Facebook posts, or even as direct messages in your friends' inbox to show them how much they are important for you and how you feel for them! 
Holi status, wishes, messages, Quotes, images, Pictures, Greetings, gif for Whatsapp & Facebook
Happy Holi Pictures
After our recent articles on Holi images for Whatsapp & Holi status for Whatsapp, the entire team of YourStatus is back again ones again with our new article on Happy Holi Pictures For Whatsapp. As we all know, Holi is going to fall on 9 March 2020. In this digital world, WhatsApp is the most used messaging app and peoples used this service to express their messages and wishes on various festivals. If you are seeking, Happy Holi photos for Whatsapp, then you have landed at the correct destination.
Holi is the time to strengthen the understanding and love among each other
Let the color of love and friendship spread through your life this Holi
Have fun and let the flower of happiness bloom into your life
May God gift you all the colors of life, joy, happiness, friendship, love and all other colours you want to paint your life with
If wishes could come in rainbow colors, then I would have sent the brightest ones to say Happy Holi.
May the Colours of Holi fill your life and of your family with colors of happiness and fun
Strengthen the ties in the family, develop a friendship with your neighbors, express your heartiest feelings, take the opportunity to achieve all these, and have a meaningful and fulfilling Holi festival
Holi is the way of putting colours in life and in relationships
Let the colours of Holi spread the message of peace and happiness
You know why I adore Holi? Since it gets colors my life, the same you did
Make memories with colors of love on Holi
A special time to remember those each year who are close to your heart is Holi
Holi is the time to break the ice and renew relationships that you wanted to with a bit of color
We wish that you would have liked our collection on Happy Holi pictures for Whatsapp. The entire pictures & images on our website are of high-quality. Download the one that you like and share it with your friends and colleagues. Share our page on social media platforms such as
Facebook
,
Twitter
,
Instagram
&
Pinterest
, etc if you liked our collection. Remain in touch with us, we will be back with our new article on the latest statuses very soon.
Tiger Shroff pictures, images, hobbies, video for Whatsapp & Facebook
Tiger Shroff pictures
टाइगर श्रॉफ (2 मार्च 1990 को जय हेमंत श्रॉफ का जन्म) एक भारतीय फिल्म अभिनेता और मार्शल कलाकार हैं जो हिंदी फिल्मों में काम करते हैं। अभिनेता जैकी श्रॉफ और निर्माता आयशा दत्त के बेटे, उन्होंने अपनी फिल्म की शुरुआत 2014 की एक्शन कॉमेडी हीरोपंती में एक प्रमुख भूमिका के साथ की, जिसने उन्हें सर्वश्रेष्ठ पुरुष डेब्यू नामांकन के लिए फिल्मफेयर अवार्ड दिलाया। इसके बाद उन्होंने एक्शन ड्रामा बाघी (2016) में अभिनय किया, जिसने दुनिया भर में US 1 बिलियन (यूएस $ 16 मिलियन) की कमाई की, और सुपरहीरो थ्रिलर ए फ्लाइंग जट्ट (2016) के लिए प्रशंसा प्राप्त की। इस आर्टिकल में हम एक जगह Tiger Shroff pictures एकत्रित की है जो आप को जरूर पसंद आयेगी।
श्रॉफ का जन्म 2 मार्च 1990 को जय हेमंत श्रॉफ के रूप में हुआ था और जब उन्होंने पहली बार फिल्मों में डेब्यू किया तो आधिकारिक तौर पर उनका नाम बदलकर टाइगर कर दिया गया। श्रॉफ का जन्म भारतीय फिल्म अभिनेता जैकी श्रॉफ और आयशा श्रॉफ (नी दत्त) के साथ हुआ था। वह दो भाई-बहनों में सबसे बड़े हैं, उनकी बहन कृष्णा श्रॉफ उनसे तीन साल छोटी हैं।
अपने पैतृक पक्ष से, वह गुजराती और उइघुर वंश से है और अपने मातृ पक्ष से, वह बंगाली और बेल्जियम वंश की है।
उन्होंने अपनी स्कूली शिक्षा अमेरिकन स्कूल ऑफ बॉम्बे से की। श्रॉफ ने आमिर खान को धूम 3 के लिए अपनी काया बनाने में मदद की। उन्होंने तायक्वोंडो में पांचवीं डिग्री की ब्लैक बेल्ट भी धारण की।
टाइगर को अभिनय के अलावा मार्शल आर्ट्स का शौक है.
डांस करना और फुटबॉल खेलना उनके दूसरे शौक हैं, जिन्‍हें वे अक्‍सर खाली समय के दौरान आजमाते हैं.
मार्शल आर्टस की शौक की वजह से ब्रूस ली उनके पसंदीदा एक्‍टर है और बॉलीवुड में वे रितिक रोशन और आमिर खान के बडे प्रशंसक हैं.
चैनल आल्‍यूर स्‍पोर्ट की खूशबू को पसंद करने वाले टाइगर को सफेद रंग से बेइंतहा मोहब्‍बत है.
We are sure that you would certainly like our collection on Tiger Shroff pictures. Each & every image of Tiger shroff available on our website is of high-quality. Download the one that you like & share it on social media platforms such as Facebook, Twitter, Pinterest & Instagram, etc if you liked our collection. You can also visit our website YourStatus for different other trending and latest status for Whatsapp.