Modi and man vs wild memes and Whatsapp status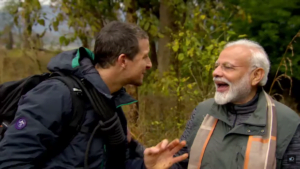 Recently, Bear Grylls shared a post on his twitter account that he is coming to India for his next episode of Man vs Wild  featuring none other than our very own Prime Minister Shree Narendra Modi, and the twitter was left  in spills after knowing this news since then  the tweet went viral and people are now making Modi and man vs wild memes and Whatsapp status that going viral across all social media platforms .
Later , a tweet from the official account of Prime Minister came up which confirmed the news was true and Modi ji is actually going to feature in an episode of Man vs Wild  with Bear Grylls .
This progress  came as Modi wanted to show Internationally about how much India is concerned about environmental changes and steps they are taking to protect  mother nature . On asking about Bear Grylls inviting him in his show Modi was quoted saying that  "For years, I have lived among nature, in the mountains and the forests … For me, this show presents a great opportunity to showcase to the world India's rich environmental heritage and stress on the importance of environment conservation and living in harmony with nature," .
The entire adventurous episode of Man vs Wild will be shot in Jim Corbett National Park in Uttarakhand .Viewers will get to see Bear Grylls teaching  Prime Minister Modi several surviving instincts and Modi will be seen taking active part in exploring the wild with Bear Grylls .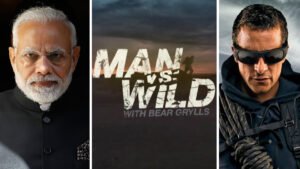 Modi and man vs wild memes and Whatsapp status are taking internet by storm and the credit goes to Modi ji who remains a hot  topic for different social media sites which are known for creating memes.
A teaser  was released on youtube by the discovery channel and in short time it became trending as well as Modi and man vs wild memes and Whatsapp status were afloat with hashtags and screenshot of the teaser.
For those who don't know of Bear Grylls is ,Bear Grylls is a  honorary lieutenant-colonel in the Royal Naval Reserve in the British Defence and was a former SAS serviceman and a survival instructor .
His services with SAS ended when he was at  training and his parachute failed to open breaking his three vertebrae . Bear started his tv career with a British survival show show aired on channel 4 in UK and later gained immense popularity with his Man vs Wild aired on Discovery channel on several countries.
Man vs Wild is survival based show where Bear is dropped into desolate places and he has to survive using resources that are available there until he is rescued by a chopper .
Modi and man vs wild memes and Whatsapp status shows the popularity of our Prime Minister that he is so popular among the youth that any kind of meme made on him goes viral in no time.
United States  president Barrack Obama  had appered in Bear Grylls show earlier and this will be second time that a National Leader will be seen in his show . the show will air on August 12 2019.
Modi and man vs wild memes and Whatsapp status are given below :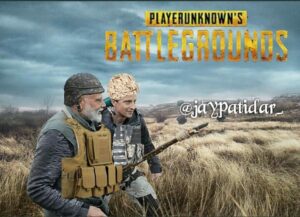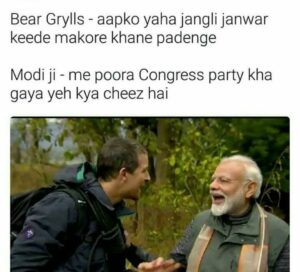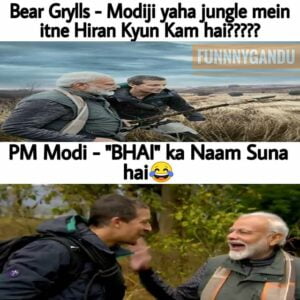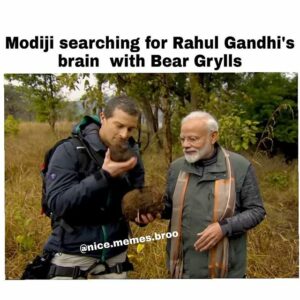 Man vs Wild upcoming episode Teaser :