Sad Shayari in Hindi with Images
Check out the Best collection of Sad Shayari with image in Hindi and Urdu for you with meaning. Share it with your loved ones to express your feelings.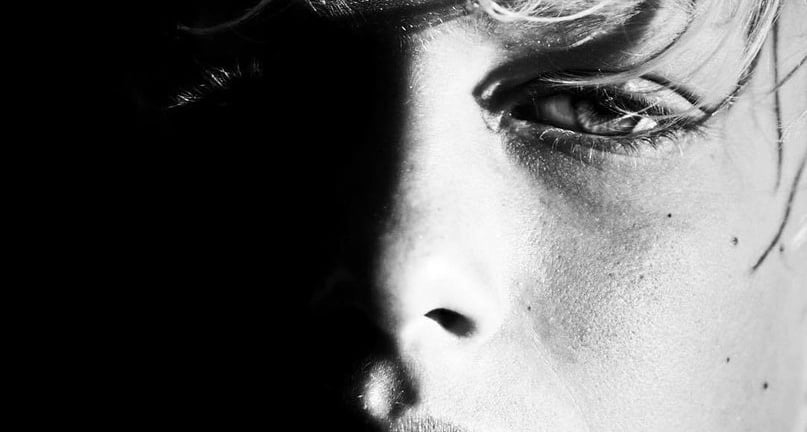 Sad Shayari in Hindi with images loved by almost all the readers and it is one of the most famous Shayari because sad Shayari in Hindi with images gives you a new way to express your feelings without using your own words but making it look like you want to. You can download and post pics of sad Shayari from here on your Facebook, Whatsapp, Instagram story to realize them their mistake. So I have brought a vast category of sad Shayari for you which will melt your and your's loved one's heart. So friends check here all collection of sad Shayari in Hindi for girlfriend & boyfriend. I hope that you will enjoy this sad Shayari in Hindi with images.
Sad Shayari In Hindi With Images For Facebook
So here I am providing you best Sad Shayari in Hindi with images for facebook that you are looking on the google. I am happy that your search for sad Shayari is ended here. So check below my all-time best 2 line sad Shayari Hindi below.
  ————————×——————–
Kal ishq ke daftar me Mahina Guzra, Tohfe me Ruswai mili.
Lifafa kholkar dekne laga, Is baar bhi Tankhwa me Tanhaayi mili.
  ————————×——————–
Mehfooz hai teri Yaadein, Mere Dil ke Tehkhaane mein.
K thi Ek Bewafa si Mohabbat islye Bhatak raha hun Mehkhano mein.
  ————————×——————–
Kaun hai aisa Jisko koi Kami nahi hoti.
Jara theek se dekho, Aasman ke paas bhi Zameen nahi hoti.
  ————————×——————–
Kaash ek Sapna Mera bhi poora hota.
Apno me koi to Apna hota.
  ————————×——————–
Uske liye bhi kya Rona.
Jisko pehle se hi tha Kisi Aur ka Hona.
  ————————×——————–
Fitrarat-ae-ishq hai Meri, Dilon ka Karobaar karta hun.
Ujad gaye hain Muhabbat ke Bageeche aajkal, bas Unhe Gulzaar karta hun.
  ————————×——————–
Reh Jayegi Zindagi me ek Kasak saari Umar,
Reh Jayegi Zindagi me Teri kami saari Umar.
Kat to Jayega ye Zindagi ka safar lekin,
Reh Jayegi Khwaish Tujhe paane ki saari Umar.
very sad shayari
————————×————————
Kuch Rishton ko kabhi Naam na dena Tum,
Inhe Chalne do Aise hi Iljaam na dena Tum.
Aise hi rehne do Tum Tishnagi har Lafz me,
Ki Alfaazon ko mere Anjaam na dena Tum.
zindagi sad shayari
————————×———————
Chupaye Dil me Ajab sa Gubar baithe hain.
Na Jaane Kaise Tasavvur me Yaar baithe hain.
Luta chuke hain Muravvat me Zindagi apni.
Tere liye to Ana ko bhi maar baithe hain.
sad shayari in hindi for girlfriend
————————×———————
Aaj bhi Tere Ehsaan baaki hain, Laakh jala diye fir bhi kuch Samaan baaki hain.
Ek mera Dil tha Tere paas jo Lauta diya Tumne, magar Aaj bhi uspar Tere nishaan baaki hain.
  ————————×——————–
Ye Yaad hai ya Fariyaad hai.
Khair jo bhi hai, Bebuniyaad hai.
  ————————×——————–
Chup Chup ke Ehtemaam me Safar ka pata chala.
Wo Juda ho gya tab uske Hunar ka Pata chala.
Jab ek- ek Phool uda le gayi Hawa,
Tab jaakr Bahar ko mere Ghar ka pata Chala.
————————×———————
Chuu rahi hai har ek Tarakki ki Lakeer, har Khwaish hai Meri poori.
Fir bhi na jaane Kyun bin Tere, Ye Zindagi hai Adhoori.
  ————————×——————–
Kasid ne di khabar ki wo aayenge raat ko.
Itna kiya chiragan ki Ghar hi jala dala.
sad shayari in english
————————×———————-
Koshish saari nakaam rahi use Apna banane ki .
Use ek Shikayat kaafi rahi humein chor jaane ki.
sad shayari with images
 ————————×——————–
Khwaab Adhoore reh gaye Kuch Uske Bichad jaane se,
Kuch Kisse adhoore reh gaye the Jo Use sunane the.
Kuch lamhe choot gaye the jo Uske saath bitane the.
Duniya Apni ho gayi Uske liye bas Hum hi Ek Begaane the.
  ————————×——————–
Patthar samajh kar paon se Thokar laga di,
Afsos Teri Aankh ne Parkha nahi mujhe.
Kya Umeed bandhkar aaya tha Saamne,
Usne to aankh bhar ke dekha nahi mujhe.
2 line sad shayari hindi
————————×———————
Taras aata hai Mujhe apni Masoom si Palkon par,
Jab Bheeg kar kehti hain ki Ab Roya Nahi Jaata.
You May Also Like
Friends I hope that you have enjoyed this collection of sad Shayari in Hindi with images that I have shared with you. If you are looking for some other type of sad Shayari for you or your girlfriend then you can check theses above listed links for other types of sad Shayari in Hindi with images. I hope you will like these articles very much. So if you have enjoyed this 2 line sad Shayari Hindi then do not forget to share on facebook, twitter and google plus. Also, share these Shayari images with your friends so that they can check these images
Sad Feeling Images in Hindi | feeling sad images free download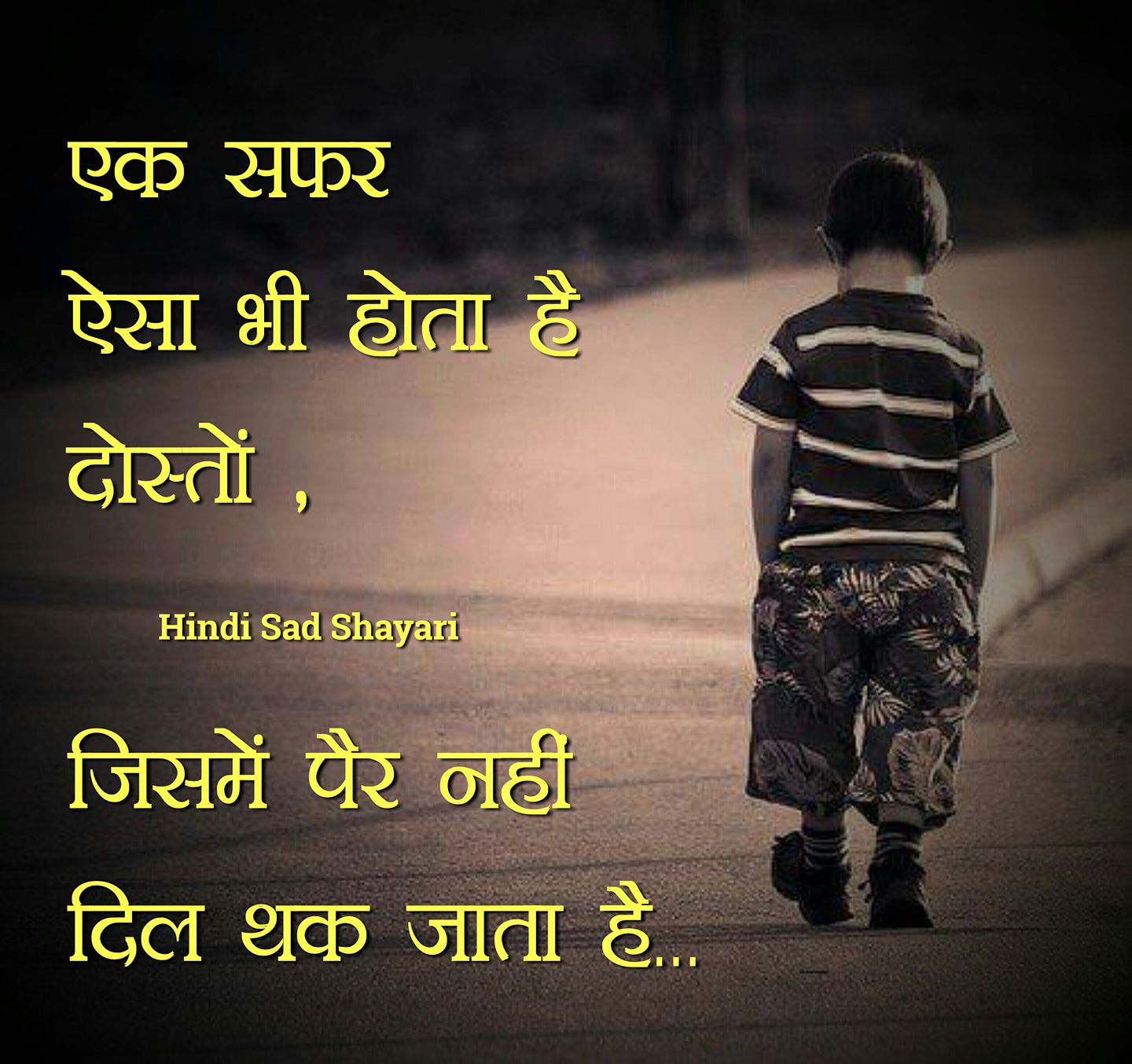 Sad Feeling Images in Hindi Download
Sad feeling images in Hindi. If you are looking for feeling sad images free download for you all social media accounts then you are at right place because today I am going to share sad feeling images in Hindi for free. You can download these images free from here and share with your friends and other social media networks. I love to share sad Shayari wallpaper download free on my blog. 
It is generally do not occur that we are always happy and in a jolly mood , but sometimes we are just upset or there something going unusual with life and we want to just show our emotions to the world but without saying and for this we use our social media to shwo whats inside our hearts and how do we feel to the people around us as we don't want to talk and just cut from the surroundings , at that only these quotes and shayari help us to convey those words to the people and also reading them makes us feel better .
Sad Shayari Wallpaper Download Free:
बहुत चाहा उसको जिसे हम पा न सके,
ख्यालों में किसी और को हम ला न सके,
उसको देखकर आँसू तो पोंछ लिए,
लेकिन किसी और को देखकर हम मुस्कुरा न सके।
Love Images In Hindi
जब कोई ख्याल दिल से टकराता है!
दिल न चाह कर भी, खामोश रह जाता है!
कोई सब कुछ कहकर, प्यार जताता है!

कोई कुछ न कहकर भी, सब बोल जाता है!
Love Shayari Images
हमें गुमाँ था वफ़ा पर जिनकी, आज़माईश में बेरहम निकले।
दुश्मनी तो निभा गए बेपनाह, आश्नाई में थोड़े कम निकले।
Sad Shayai Wallpaper
नज़ाकत उनकी इस कदर है के आरिज़ उनके नीले पड़ गए
हमने तो बोसा लिया था ख्वाब में उनकी तस्वीर का
love image with Shayari download
आज भी, आंसू से देती हूँ ब्याज तेरा..
तेरी मोहब्बत का कर्ज, बहुत भारी पड़ा..।।
Sad Wallpaper :
ख़ामोशी तुम्हारी.. तो सब कुछ बोल रही उस दिन…
ना जाने क्यूँ मेरे दिल.. उसे सुनने से इंकार कर रहा था…
Sad Shayari whatsapp status :
तेरी चाहत में हम रुस्वा सर-ए-बाजार हो गए,
हमने ही दिल खोया हम ही गुनहगार हो गए…..!!!
Jinki yaad mein hum dewane ho gaye, 
Wo hum hi se begaane ho gaye. 
Shayad unhe talash hai ab naye dost ki, 
Kyunki unki nazar me ab hum purane ho gaye.
Muzhe Maloom H K Meri Zindagi K Gam Kbhi Jane Wale Nhi,Mai Intezar Krunga Unka Aakhiri Sans Tak Jo Kbhi Aane Wale Nhi,
Daru aur Cigarette peenewala insaan
kabhi matlabi
nahi hota…
Jise apni khudki jaan ki chinta nahi
woh bhala
matlabi kaise.. : )
Humare Muskurane ki Wajah Tum Ho,
Hamare Zindagi ka Matlab Tum Ho,
Agar Chor Diya Saath Hamara To Samajh Lena
K Hamari Maut ki Waja Bhi Tum Ho.
Tujhe Bhool Kar Bhi Na Bhool Payenge HumBas Yahi Ek Wada Nibha Payenge HumMita Denge Khud Ko Bhi Jahan Se LekinTera Naam Dil Se Na Mita Payenge Hum
Junbaan se Naam Lete hi, 
Aankhon se aansu Chalak Jaate hai… 
Kabhi Hazaro baatein kiya karte the… 
Aaj Ek baat ke liye taras Jaate hai…
Kabhi Kisi Se Pyaar Mat Karna
Ho Jaaye To Inkaar Mat Karna
Nibha Sako To Chalna Uski Raah Par
Varna Kisi Ki Zindagi Barbaad Mat Karna
tune kuchh bhi na kaha ho jaise,
mere hi dil ki sada ho jaise,
yoon teri yaad se jee ghabraaya,
tu mujhe bhool gaya ho jaise..
Bin Badal Barsaat Nahin HotiSuraj Doobe Bina Raat Nahin HotiAab Kuch Aise Haalat Hain Hamare KiAapko Dekhe Bagair Din Ki Shuruwat Nahin Hoti
Mausam Ko Mausam Ke Baharon Ne Luta,Kashti Ko Saahil Ke Kinaron Ne Luta.Tum To Darr Gaye Ek Hi Kasam Se,Humein To Tumhari Kasam De Kar Hazaron Ne Luta.
Sad Image of Feeling:
Download and share latest sad feeling images with friends and tell what your heart feels like when it is upset.
दिसम्बर आ गया है अपना
ख्याल रखना
बुजुर्ग कहते हैं सर्दियों में
अक्सर…
चोटें ज्यादा असर करतीं हैं…..!!
Kuch Nasha To Aapki Baat Ka HaiKuch Nasha To Dheemi Barsaat Ka HaiHumein Aap Yun Hi Sharabi Na KahiyeIs Dil Par Asar To Aap Se Mulakat Ka Hai.
Whatsapp dp images in Hindi
Download and share sad feeling images in hindi for your whatsapp status and whatsapp dp .
ये सर्द हवाएँ,बिखरे पत्ते और तन्हाई,
ऐ दिसम्बर तू सब कुछ ले आया है सिवाय उसके
जख़्म इतना गहरा हैं इज़हार क्या करें।
हम ख़ुद निशां बन गये ओरो का क्या करें।
मर गए हम मगर खुली रही आँखे हमरी।
क्योंकि हमारी आँखों को उनका इंतेज़ार हैं।
वो बात क्या करें जिसकी कोई खबर ना हो।
वो दुआ क्या करें जिसका कोई असर ना हो।
कैसे कह दे कि लग जाय हमारी उमर आपको।
क्या पता अगले पल हमारी उमर ना हो।
मोहब्बत मुकद्दर है कोई ख़्वाब नही।
ये वो अदा है जिसमें हर कोई कामयाब नही।
जिन्हें मिलती मंज़िल उंगलियों पे वो खुश है।
मगर जो पागल हुए उनका कोई हिसाब नही।
दर्द को दर्द अब होने लगा है।
दर्द अपने गम पे खुद रोने लगा है।
अब हमें दर्द से दर्द नही लगेगा।
क्योंकि दर्द हमको छू कर खुद सोने लगा है।
सामने मंजिल तो रास्ते ना मोड़ना ।
जो मन मे हो वो ख़्वाब ना तोड़ना ।
हर कदम पर मिलेगी सफ़लता ।
बस आसमान छूने के लिए जमीन ना छोड़ना ।
प्यार में मौत से डरता कोन है ।
प्यार हो जाता है करता कोन है।
आप जैसे यार पर हम तो क्या सारी दुनियां फिदा है।
लेकिन हमारी तरह आप पर मरता कौन है।
चेहरे पर हँसी छा जाती है।
आँखों में सुरूर आ जाता है।
जब तुम मुझे अपना कहते हो।
अपने आप पर ग़ुरूर आ जाता है
Read Also :
Friends, I hope that you have enjoyed this sad feeling images in Hindi that I have shared on my this blog. Friends in these days 2 line romantic Shayari in Hindi is very famous in India and people are searching for this type of sad Shayari with images on google that's why I have shared this on my blog. Friends if you like these sad images then don't forget to share on facebook, twitter, Instagram and google plus. Also, share these images with your friends