2019 Kargil Vijay Diwas WhatsApp Status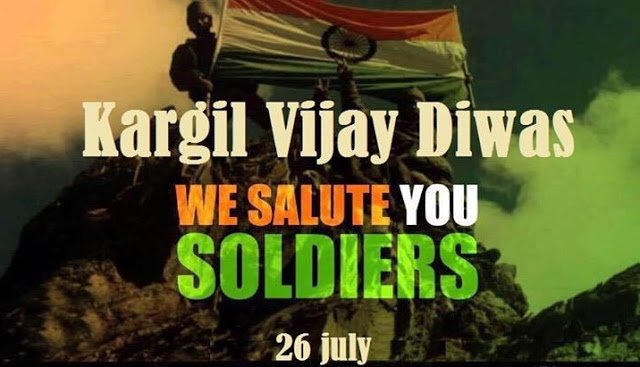 In remembrance of the peak of Indian military victory of 1999, the country is celebrating the 20th anniversary of the Kargil Vijay Diwas today.
On this day of 26th July in 1999, the Kargil War, had formally come to an end, with our Indian soldiers having successfully recaptured our mountain heights that had been taken by Pakistani intruders.
To hail the glory of our martyred soldiers, people across the nation took pride in celebrating this day by uploading 2019 Kargil Vijay Diwas WhatsApp Status and spreading positive messages on social media.
https://www.youtube.com/watch?v=P_SON-W23P0
Also, politicians, government organizations and other prominent personalities were seen embracing the acclaim of the Kargil Vijay Diwas in their own ways by posting their feelings on social networks like twitter. For that fact, our bollywood superstar Akshay Kumar shared a heartfelt post of his own along with a video paying tribute to the jawans of our country. In his post, he saluted the jawans and said that if his small efforts reach the people then there is nothing more he can ask for.
WhatsApp has also seen a rise in trends of more and more people posting their thoughts and messages through the Whatsapp Status feature. There are varied posts with pictures and videos of our brave Indian soldiers standing with pride on top of the heights by our Tri-color soaring high and proud.
The Kargil War was the last time these two nations came to a full-blown armed conflict and also the first time India and Pakistan got into an armed conflict after becoming nuclear powers.
The War was prompted by the Pakistani Army to intrude into India across the Line of Control and capture mountain peaks that were strategically important to India. The intrusion was first witnessed in May 1999, at which time it was assumed that those intruders were militants or terrorists. It was not taken into assumption that those assailants could be the regular Pakistan Army troops.
Over the period of the next few weeks, as Indian soldiers fought the battle gallantly to reclaim the heights of the Kargil peak, it had become apparent that it was actually the Pakistan Army that had intruded across the Line of Control.
In response, India then launched a military and diplomatic attack, fending the Pakistani intruders off the captured heights and isolating the state of Islamabad on a global level.
India then finally recaptured all the peaks by July 26, 1999, bringing the Kargil conflict to an end. More than 500 Indian soldiers died in the Kargil War. The day takes us back to 1999 and it fills us with immense pride and belief that our nation is strong as a rock and nothing can ever shake the courage off of our minds and hearts.
Our brave soldiers have always had and always will have their guard up to prevent, protect and preserve the safety and integrity of our nation. And our population embracing the glory of this tremendous victory is sure a sight to behold. Be it in form of spreading social awareness through social media like Instagram or Twitter, or be it sharing with their friends and family through Whatsapp status, the Kargil Vijay Diwas has certainly been given the praise and attention that it should be. It is delightful to see that the day is celebrated in all its eminence in today's date too.